Pastor Kirk and Jeanette Henneberry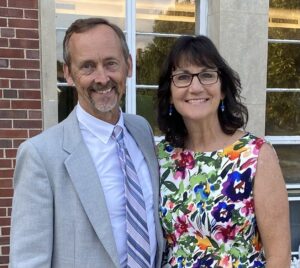 At Harvest Christian Center, Pastor Kirk's leadership envelops the attendees in an atmosphere of love. With a profound commitment to faith, he educates, shares, and embodies the teaching of the word of God. Alongside him, his wife Jeanette, assumes the role of Director of Children's Ministry. Her passion for nurturing young hearts is evident as she imparts wisdom to our little ones. With a unique calling, she imparts her teachings with a gentle touch, leaving an indelible mark on the young minds she guides. Together, Pastor Kirk and Jeanette create a haven of faith, where every member, young and old, feels the warmth of love and the presence of God.
Viki serves as the dedicated administrative assistant at Harvest Christian Center. With a remarkable ability to ensure seamless operations, she adeptly handles tasks of all sizes, maintaining a well-organized environment. Beyond her administrative role, Viki shines as an accomplished author and engaging speaker, sharing her journey and faith with others. Her multifaceted contributions make her an invaluable asset to the team, exemplifying both efficiency and creativity. 
Pastor Craig and Kathy Patient
Under the dynamic leadership of Craig, our Youth Group is a constant source of excitement and inspiration. With his engaging approach, every moment is filled with enthusiasm and meaningful connections. Together, we foster an environment where mutual support and growth thrive. As we uplift one another, we're not only nurturing personal development but also contributing to the expansion of God's kingdom. With Craig's guidance, our Youth Group becomes a vibrant community dedicated to both individual progress and the greater spiritual journey.